NOL QUALITY
品質管理
品質管理業務の役割

ROLE OF QUALITY CONTROL
常に商品を使用するお客様の視点に立ち、安全で安心して使える商品を提供し続ける

Keep standing at the customer's point of view that always uses the product, continue to provide products that are safe and secure

コンプライアンス(法令遵守)

Compliance with laws and regulations

各段階の品質(企画デザイン段階・試作サンプル段階・生産段階・発売後段階)を考え、社内外の関係者と連動し、より多角的な品質管理を心掛ける

Consider the quality of each stage (planning design stage / prototype sample stage / production stage / post-release stage), interlock with stakeholders inside and outside the company, to devise more diverse quality control

発生した不具合を、より早く、より正確に対処し改善に努め、お客様の安全・利益を最優先に考え行動する

We will deal with the problem more quickly and more accurately and make improvements, act with thinking the safety and benefits of customers as top priority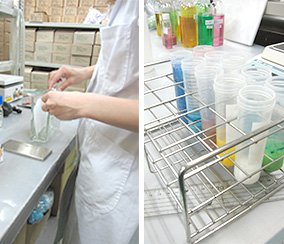 主な内容

Main contents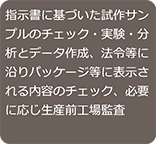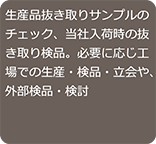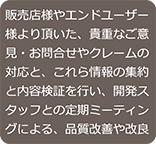 知的財産権の取得

Acquisition of intellectual property rights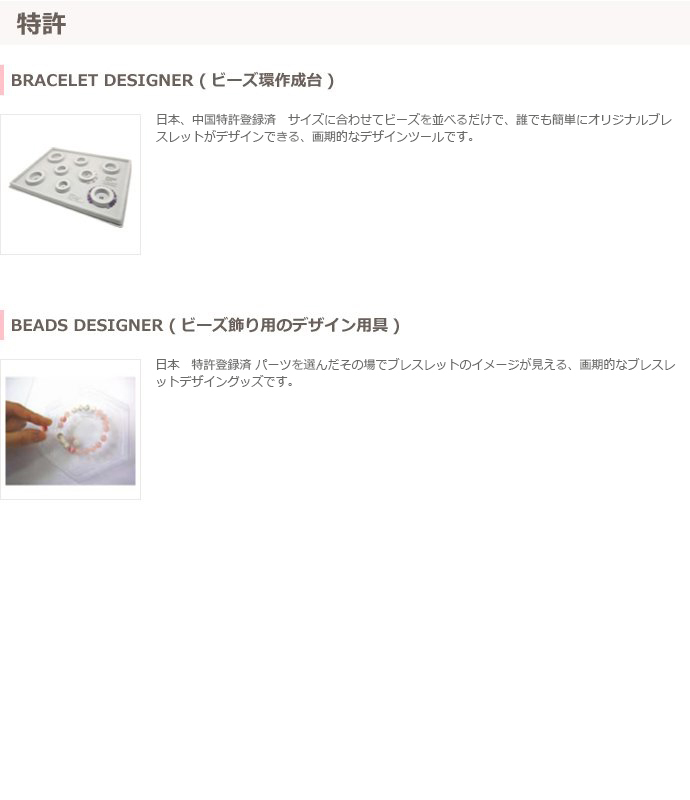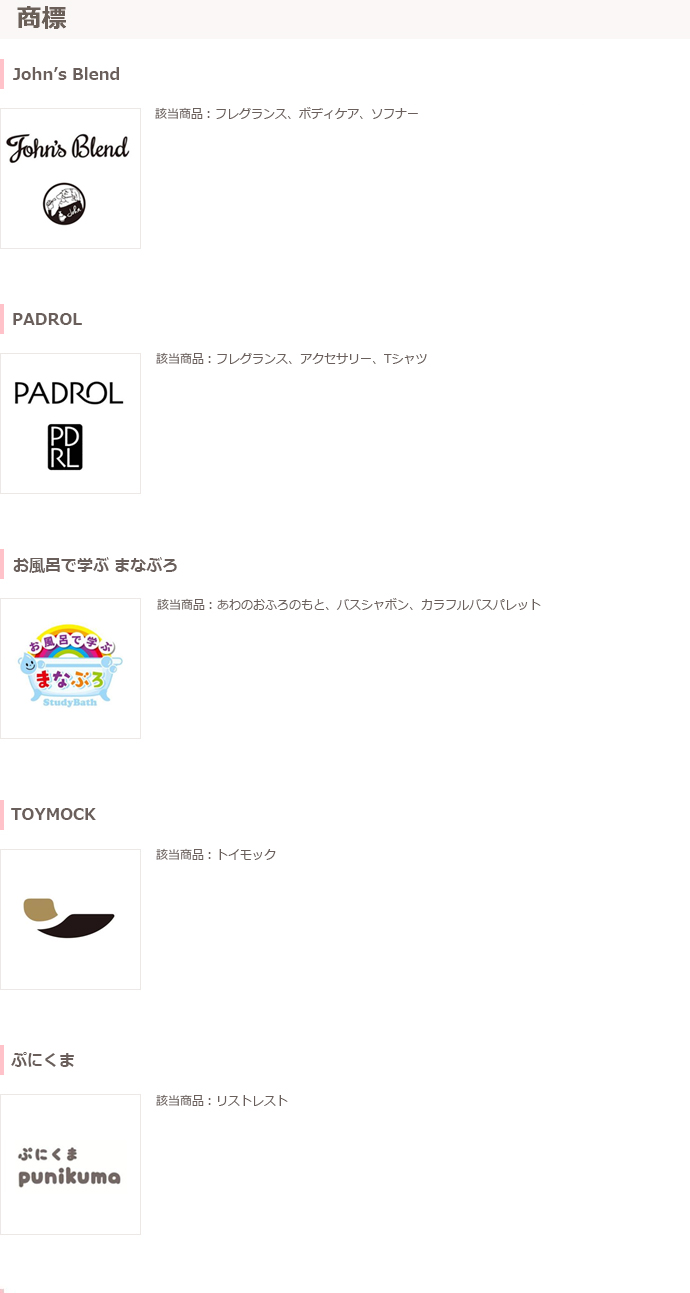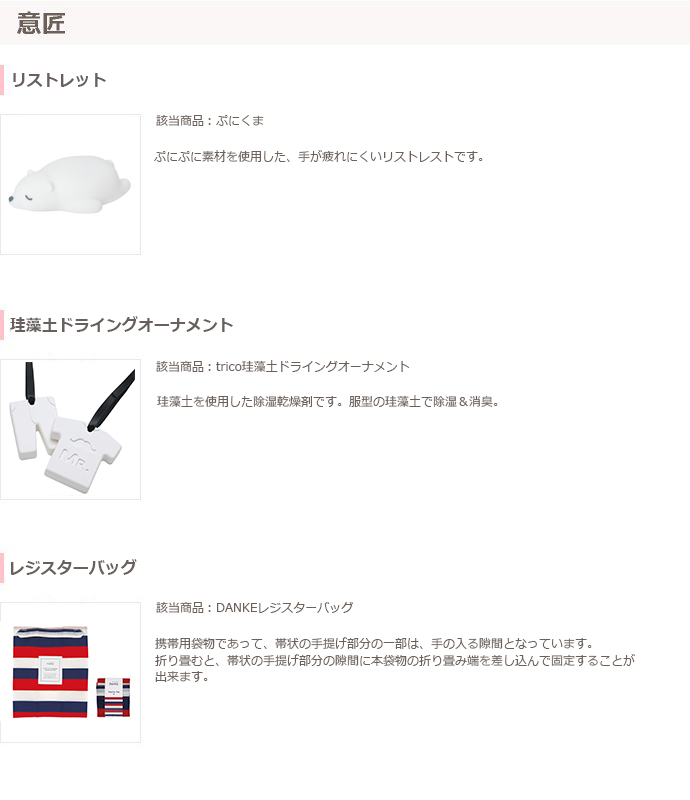 工場環境・管理体制

Environmental management
主力商品である、バスボール・エアーフレッシュナー等をはじめ、各提携工場へ定期的に訪問し、工場環境の確認や商品不具合の未然防止に力を入れて取り組んでいます。また、ライセンス商品における各ライセンサー様の監査基準に対応可能な、生産工場とも提携しています。 We regularly visit each affiliated factory, including our main products, busball, air freshener, etc., and we are working to confirm factory environment and prevention of product defects. In addition, we have tied up with production plants that can comply with each licensor's auditing standards in licensed products.
検品体制

Inspection system
海外Overseas
・各提携工場での生産時及び出荷前検品の実施Production at each affiliated factory and implementation of pre-shipment inspections ・商品特性などの必要性に応じ、第三者検品の実施In accordance with the necessity of product characteristics etc, implementation of third party inspection
国内Domestic
・当社入荷時毎に抜き取り検品の実施·Pick-up inspection performed at each company arrival
品質管理体制の一例

Management example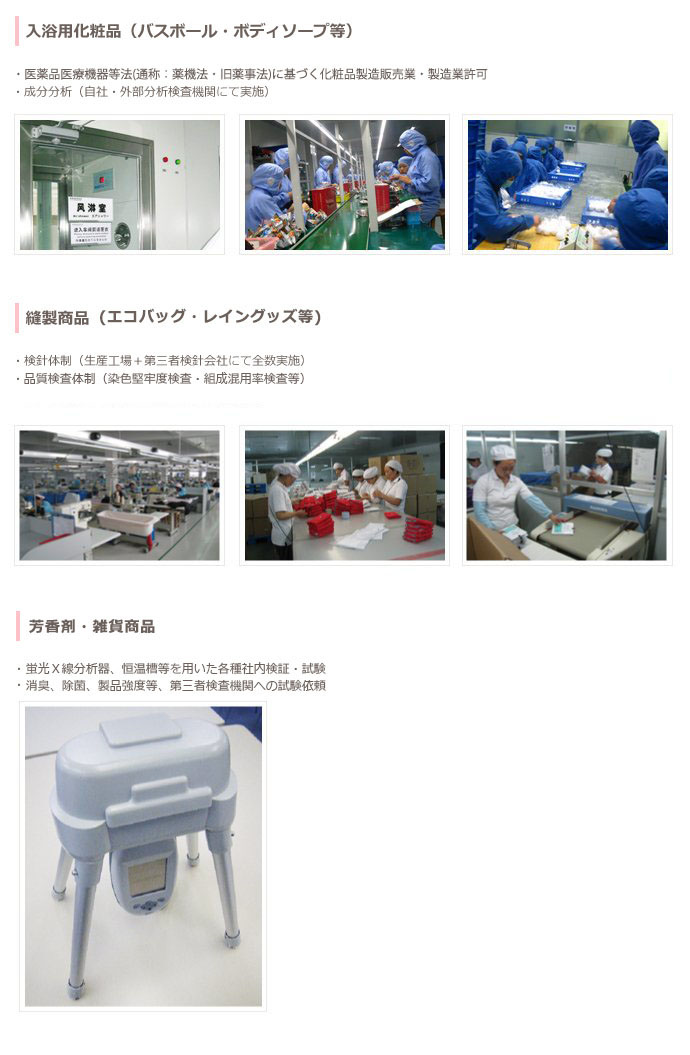 発売後の顧客対応

Customer service
お客様より頂く貴重なご意見を集約し、定期的に商品開発スタッフと打合せし、品質改善・工場につなげています。

We gather valuable comments received from customers, periodically meet with product development staff, and connect with quality improvement and factory.

お客様が、より安心して当社商品をお使い頂きますよう、商品に対する使用上の注意表示をお客様のご意見等も参考に見直しております。

We will revise the notice of usage notice for the product with reference to customer's opinion, etc. so that the customer will use our products more reliably.

当社商品の誤飲誤食等中毒事故対応として、公益財団法人日本中毒情報センターの賛助会員になっており、当社営業時間外におきましても、対応可能な体制をとっております。

As a countermeasure against poisoning accident such as accidental ingestion of our products, we are a supporting member of the Public Interest Foundation Japan Addicting Information Center, and we have a structure that we can handle even outside our business hours.
誤飲・誤食について

About mistakenly eating
■ 入浴剤・石けん・芳香剤・フレグランスオイルなどの誤飲・誤食・目に入った場合など Incorrect drinking / misdelivery such as bathing agent · soap · fragrance · fragrance oil · when entering the eyes etc.
TEL 042-442-8323[受付時間:10:00~17:00 土・日・祝日を除く]
TEL +81-42-442-8323 [Reception hours: 10: 00-17: 00 excluding Saturdays, Sundays, and holidays]
■ 当社食品製品についてのお問い合わせ Inquiries about our food products
TEL 042-485-3100[受付時間:10:00~18:00 土・日・祝日を除く]
TEL +81-42-485-3100 [Reception hours: 10: 00-18: 00 excluding Saturdays, Sundays, and holidays]
■ 当社受付時間外のご連絡先 Contact details outside our reception hours
公益財団法人 日本中毒情報センター[→HPはこちら]
Japan Poisoning Information Center, Public Interest Foundation ・大阪中毒110番 072-727-2499[365日 24時間対応]
Osaka addiction 110 +81-72-727-2499[24 hours a day for 365 days] ・つくば中毒110番 029-852-9999[365日 9:00~21:00対応]
Tsukuba addiction 110 +81-29-852-9999[Correspondence 9: 00-21: 00 on 365 days]