PRESIDENTS MESSAGE
代表者メッセージ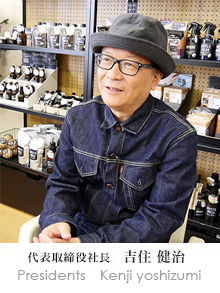 生活雑貨の卸売業として、またMEDI STOREを中心とした小売業として、来期は30周年の節目を迎えます。
扱う商品は経営理念である「いつも驚きのある商品を開発し、世の中にHAPPYを提供する」をテーマに、時代に合わせながら毎年多くの新商品を世の中にお届けすることが出来ています。

30周年を迎えるにあたり改めて我々が世の中に出来ること、必要とされることを考え、より多くのHAPPYを提供していく存在であり続けるように日々努力していきます。

常に法令を遵守し、品質管理を徹底しお客様に安心してお使いいただける物作りを全員で一丸となり行っていきます。

そして全従業員が安心して働ける会社であり続けられるように努力をしていきます。

It is our 30th year since we have started a wholesale business in life-style product market and also a retail chain business under MEDI STORE brand.

Since then, By setting our corporate philosophy as "We always strive to develop product that is full of "Surprises" and bring "Happiness" into our society", we have created hundreds of new products each year, deliberately adjusting to the phase of life, society, and economy

Yet, we think there are still a lot of things we can do to help and create more happiness into our society. In that sense, this memorial year would make us even more resolved and united that we would continue to strive hard to develop products under strict legal compliance and quality control/assurance that everyone can always use safely.

And we would continue to strive for all the workers of NOL to be able to work happily and safely as well.