PRESIDENTS MESSAGE
代表者メッセージ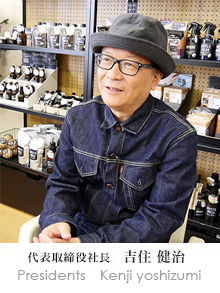 2021年9月1日より第31期が始まりました。

昨年の始めから始まった新型コロナウイルスの影響により前期は大幅な働き方の変更、
感染への対策、業績への影響など、全ての事柄が大きく変化せざるを得ない一年でした。

起こり続ける新たな事象に対応しながら30期を終え、
31期を迎えることが出来たのは本当に全従業員の努力と工夫のおかげだと感謝しています。

この31期は現状に対する対応と対策だけではなく、未来に向け大きな変革の年にしていきましょう。
具体的な策は練れています。
あとはこれらを各部一つ一つ確実に実行し、これからも永続的に世の中へ雑貨を通しHAPPYを提供し続けましょう。

2022年1月からは新社屋での業務が始まります。
まさに変化の年です。

引き続き健康に気をつけみんなで楽しくて刺激的な一年にしていきましょう。

Our 31st term started on September 1, 2021.

The whole impact of COVID-19 since the beginning of a year 2020 has forced us into drastic changes in almost all aspects of our business, our working styles, countermeasures against infections, and business performance.

Seeing all our employees resolutely dealing with those difficulties and problems that just kept occuring in the 30th term, I am very grateful to them and without their efforts and integrity we could have never reached our 31st term to this strength.

Let's make this 31st term a year of NEW CHANGE for the future, not just trying to maintain a status quo.

We do have plans. All we have to do is carry out each one of them step-by-step, and stick to our motto, "Always strive to develop products full of surprises and bring happiness into our society", trying to make it last for good.

In January 2022, our new office building starts operation, our epitome of NEW CHANGE.

Let's all stay healthy and make our new term fun and exciting for everyone!