Presidents Message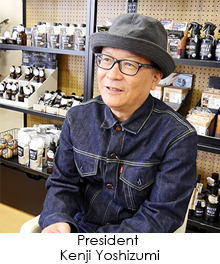 After the founding 25 years, the company is in the 26th year.
The miscellaneous goods industry, the main of our business, has undergone significant changes in recent years.
In accordance therewith, our company has undergone a trial and error process many times.
It is a very important thing to permanently be required and surviving from the world
In growing it is going to be repeated repeatedly in the future.

While continuing to keep the important things that have been continuing until now, we will make more systematic improvements in efficiency, and will continue to make sustainable development while taking new initiatives more quickly.

We will continue to provide surprises and HAPPY to the world in order to be a company that will be required permanently in the future.

Please look forward to further growth and development of the company in the future, and products that make the world fun.